We Find Your
Tone of
Voice
Every brand needs to find it's voice.
Whatever your business, it can take time to find the perfect tone. 
Sometimes it's not what you say, it's how you say it.
And sometimes, it's what you don't say.
We make your content easy for customers to understand.
There's nothing we enjoy more than taking a complex concept and simplifying the message.
Why not talk to Foxdog Marketing to see how you could benefit by creating more click happy copy.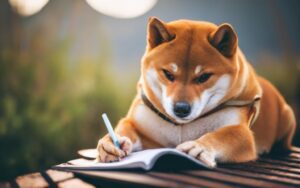 Why Copywriting Matters
Let's face it, in the wild jungle of the internet, your website is just another tree. But what if we told you that the words on your website could turn it into a neon-lit disco ball, attracting everyone's attention? That's the magic of copywriting!
What Exactly is Copywriting, You Ask?
Well, it's like giving your brand a voice that can sing, dance, and tell jokes that even your grandma would approve of. It's the art of crafting words that not only inform but also engage, persuade, and make your audience say, "Yes, please!"
Our Copywriting Superheroes
At Foxdog Marketing, we don't just have copywriters; we have word-wizards who can make even the most mundane product sound like an intergalactic adventure. We're talking about turning "ordinary" into "extraordinary" and "good" into "mind-blowingly awesome!"
The Playful Yet Serious Approach
We believe that effective copywriting is like a well-timed prank – it's playful, it grabs attention, and it leaves a lasting impression. But, we're serious about getting results. Our copy is crafted with precision, strategy, and a dash of humor because who said marketing can't be fun?
What We Can Do for You
Website Copy:
We'll transform your website into a virtual salesman, persuading visitors to take action, whether it's making a purchase, signing up, or just saying "Wow!"
Social Media Brilliance:
Our copy will make your social media posts pop, get shared, and create an army of raving fans.
Email Wizardry:
Say goodbye to boring newsletters. Our emails will have your subscribers eagerly waiting for the next one.
SEO Sorcery:
We know the secret language of search engines. We'll help you climb the rankings and dominate the digital kingdom.
Conversion Alchemy:
We turn those "maybe laters" into "I want it now!" by sprinkling our conversion magic dust.
The Foxdog Promise
When you choose Foxdog Marketing for your copywriting needs, you're not just getting words on a page. You're getting a team that's as excited about your brand as you are. We're here to make your message roar like a lion and your brand shine like a supernova.
Contact Foxdog Marketing today and let's make your brand the talk of the digital town! 
Remember, it's not just copywriting; it's Foxdog copywriting – where the serious meets the playful, and the results are nothing short of spectacular! 
We love working with local businesses. We're pretty sure you do too!!
Foxdog's Hertfordshire Hideaway
Nestled in the heart of Hertfordshire, our cozy office overlooks rolling green fields, where inspiration floats in with the gentle breeze. Here, the hum of the countryside coexists harmoniously with the buzz of creativity.
Our team, fueled by locally sourced coffee and the tranquility of Hertfordshire's landscapes, crafts copy that not only speaks to your audience but also tells a story. We take the essence of Hertfordshire – its rich history, vibrant culture, and friendly community – and infuse it into every word we write.
Beyond Hertfordshire Borders
While we proudly call Hertfordshire home, our words have no boundaries. We've helped businesses in bustling cities, remote villages, and far-flung corners of the globe. Our clients come to us for that Hertfordshire touch – a touch that blends the warmth of a small-town community with the global reach of the digital age.
Hertfordshire's Seasons, Your Brand's Success
Just as Hertfordshire experiences the changing seasons, we adapt our copy to suit your brand's evolving needs. Whether it's the vibrant bloom of spring, the lazy days of summer, the crispness of autumn, or the cozy warmth of winter, our words will resonate with your audience year-round.
A Word About Our Team
Our copywriting team isn't just a group of professionals; we're a family, and our Hertfordshire values shine through in everything we do. We believe in collaboration, creativity, and creating copy that makes your brand stand out, no matter where your audience is loacted.
Join the Foxdog Family
Ready to elevate your brand's voice with a hint of Hertfordshire charm? Whether you're down the road or across the ocean, Foxdog Marketing is here to help. Let's turn your brand's story into a captivating narrative that echoes through Hertfordshire and beyond.
Come on, be a part of the Foxdog family – where Hertfordshire's beauty meets the world's stage through the power of words.
Blog
We provide The Foxdog Blog as a resource for businesses to improve their own inhouse marketing department. So if you'd rather get your house in order before working with an agency, you couldn't ask for a better place to start!